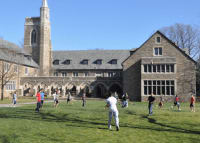 If you've ever seen Dead Poets Society, you've seen the campus of St. Andrew's in Middletown, Delaware—the movie was filmed almost entirely on school grounds. Committed to its Episcopalian identity, St. Andrew's is an all-boarding, coed private school for students in grades 9–12. Along with the all-boarding requirement, family-style meals during the week (where students take turns waiting tables) help ensure a close-knit community on campus. St. Andrew's requires chores of students (which are usually in the student's dorm and rotate regularly).
Academics are rigorous and graduates attend Ivy League schools and other top-tiers like NYU and Vanderbilt. Seniors take spring tutorials which are reading and writing intensive, in which three students meet in a course specifically designed by faculty members across a range of disciplines in the spirit of the Oxford tutorial method, and then defend an original thesis to the English Department.
True to its heritage, St. Andrew's offers a Pipes & Drums ensemble that gives students the opportunity to learn and perform the bagpipes or learn field drumming, and requires attendance at chapels and Sunday service. Lastly, the school can meet 100% of demonstrated financial need for students.